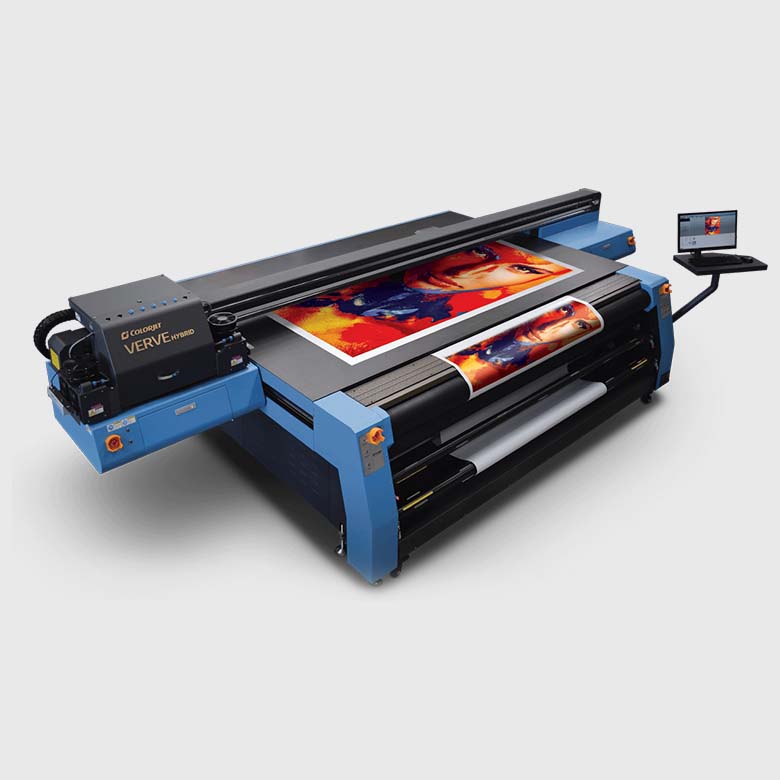 Direct UV (Ultra Violate ray) printing is nothing but one type of digital printing method. As its name indicates UV ray is used for this type of printing. In this type of digital printing method, the printing machine emits ink and UV rays simultaneously directly on the material surface or substrate. UV rays help to dry up the inks on the substrate instantly as a result the inks stick to the substrate for a long time. Direct UV Printing technology offers long-lasting and qualitative printing on Acrylic as well as the glass surface.
Machines and materials used in UV printing technology
The Digital printing press uses 4 types of tools and materials for this technology. Such as-
UV injector printer: This is a special type of printer that will eject inks and also emit UV rays simultaneously.

Inks: Special types of inks are available for UV injector printers that enhance the longevity of the printed photo or messages.

Material surface or substrate: Substrates on which you want to print images and messages.

Design creating software. Design software  (like Photoshop) helps you to select the layout of the design and we can create designs as you want. 
Advantages of Direct UV Printing
UV printing technology become very popular as it offers multiple benefits. Some of them are-
Instant drying of the ink: One of the significant benefits of UV printing is that this technology reduces the time for drying after printing. That means immediately after printing there will be no wet ink that may spread out.

Sharper finishing and good color: The substrate does not absorb the ink as the ink instantly gets dried by the UV ray; it remains on the outer surface of the substrate. So, printed images and messages do not lose their sharpness. The color gradation also does not change because of the instant drying process.

Longer durability: The signs printed using Direct UV Printing retain their originality for longer times. That means whatever substrate (like Acrylic, glass, etc.) you used for printing, the printed signs will remain 'like new' for a long time.   

Less turnaround time: As already mentioned, the ink-curing process in UV printing is very less in comparison with other traditional printing. You can produce multiple printed signs within very less time.

Cost-effective: You just need a one-time big investment to buy a UV injector printer. Another expense like purchasing ink is not so high. That is why the printed signs using UV printing are not expensive.

Sustainable: UV printing is environmentally friendly. Fewer VOCs are produced in this process and the UV injector printer produces less odor and heat.

UV printing allows you to print on different types of substrates like aluminum, glass, acrylic, etc. very fast and at a low cost.
If you are looking for the most trusted UV printing press, you may consider the name Lakshya Signages. The company has been offering signage, printing, branding & visual solution at a convenient rate since 2021.